Top 10 List of Bollywood romantic action films
Bollywood is popular for its romantic movies across the world, where as Hollywood always focus on action movies to showcase their talent and technology. It's not that Hollywood film makers don't do any romantic movie, but Bollywood always have an upper hand in its romantic movies with beautiful songs, colorful sets and emotion driven screenplay. So here the question arises, does Bollywood film makers have ever tried to make a romantic movie with action theme? Here in this article you will get to know a list of Bollywood romantic action films, which have not only got good earning at the box office, but some of the movies have set a different standard in the industry.
Action and Romance are two different thing and two different feelings all together. Mostly hindi directors never keep action sequence in a romantic movie to distract the audience from the romantic flow of the story. On the other side action films always comes with thriller or patriotic essence. In 90's when most of the films comes with a family love story and a fighting seen at the end. Towards the end of 90's film makers started experimenting different theme in the film industry. In that list of few experiments, some of the romantic stories have been portrayed in a action pack movie.
Here the list will be in two segments. In segment one (1-8), those films have named, which can be truly categorized as a romantic movie for its heart touching story. And in the second segment (9-10)you will get the list of romantic action movies with good feeling (happy ending) screenplay.
Check out the list below
1.Bajirao Mastani (2015)
Bajirao Mastani is an epic historical romance film directed by Sanjay Leela Bhansali. It stars Ranveer Singh, Deepika Padukone and Priyanka Chopra.
The movie is the true story of the romance between the Maratha warrior Peshwa,  Baji Rao (1st) and Mastani, the princess of Bundelkhand. Bajirao, who fought many major battles and never have lost a single one of them. Mastani, who is a princess of raja Chattrasal, was sent to battle at the head of the Bundelkhand army. Then both got a chance of meeting each other on a war field where they fought on the same side. After that both fall on a course of passionate love- which was unstoppable by either of their families, by war or by death itself.
Check out the trailer below.
---
2. Gadar: EK Prem Katha (2001)
Gadar: Ek Prem Katha is a period action drama film starring Sunny Deol and Amisha Patel. the story of the film set in the time of the Partition of India in 1947. It was commercially one of the most successful movies in India when it was released.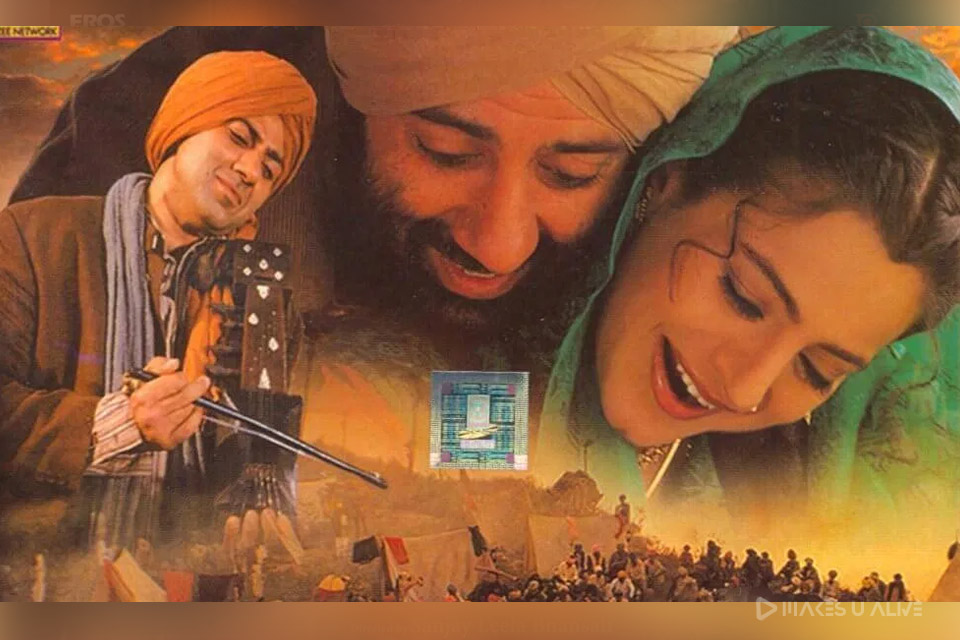 The movie starts with a communal riots during the partition of India in 1947.  Tara (Sunny Deon) saves Sakina (Amisha Patel) from a crazed mob and took to his home, where a bond love blossomed among them. Then two eventually get married and have a son. After some years when sakina finds her father (Amrish Puri) is alive, whom she previously believed died in the riots back in Amritsar. Upon contacting him,  (the father bacame the mayor of Lahore in Pakistan), arranges for his daughter to arrive in Lahore to see him. After reaching in pakistan, her father tries to separate them. Then tara crossed the border to bring back his wife and the bond between tara and sakina leads them an extraordinary journey return back to India.
Check out a scene of the movie below.
---